The Complete Guide to
Event Marketing
This guide will tell you what matters now and what will matter going forward in event marketing. We feel it is useful to let you know about the big shifts happening online and offline, so you can market your corporate events, brand activations, client conventions, trade shows, and team-building activities better and more efficiently.
We are all familiar with the adoption rates of social networks and online communities. When a tool becomes popular, it profoundly affects the way we will consume experiences and products. There is no time to think about whether our audience will care. Social networks will adjust to include the hype; it will become part of the way we do business from now on.
How does that affect corporate and business-oriented environments? We may be tempted to think that this does not apply to our reality. Open rates, click-through rates, and direct conversions are going down. To succeed, the event marketer of the future needs to stay on top of the event marketing game.
Before you get dazzled by the latest shiny lights, you should build out your event marketing plan. Having a clearly defined event marketing strategy is crucial and you should never start without it.
What is Event Marketing?
Event marketing is a promotional strategy that involves face-to-face contact between brands and their customers at events like conferences, trade shows, and seminars. Each event is different, it has different audiences, different content, and different culture. Therefore, it deserves to be marketed in its own unique way. To succeed, the event marketer of the future needs to stay on top of the event marketing game.
Why is Event Marketing Important?
What makes the difference between a good and a great experience is your knowledge of what is happening now. This guide discusses the big shifts happening online and offline, which corporate event professionals need to be aware of, to market their events more efficiently.
Pre-event email
If you have a list, email marketing may be your best channel. If you don't, you may ask partners, speakers, or friends to mention the event in their emails (see "Affiliate Partners" below). Regardless of the list, use these event email marketing guidelines:
7. Subject line
Subject lines that inspire awe, anger, or anxiety lead to higher open rates. Studies have shown that subject lines with lukewarm emotional content are less likely to be opened. Try a subject line such as "10 things you miss if you aren't at this event."
8. Send during the weekend
Consider sending an email on the weekend. Since few companies do it, open and clickthrough rates may be higher. And when possible attendees see it on a weekend, they may feel less stressed for time and more willing to commit a few hours to your event. They may be in a social mood and even invite a friend.
9. Video thumbnail
10. Social proof

11. Send and send again
Plan to send an event marketing email several times. For large events, email once months in advance to announce the speaker lineup and to announce early-bird registration discounts.
Email just before this discount ends, and again as the event approaches. Finally, send an email a few days before with reminders of time, place for registrants and a final pitch for new registration.
Pre-event social activity
12. The hashtag
ProTip: If you're using Eventbrite, you can even use it in the address of the registration page as the subdomain. For example, Orbit runs a monthly event called "Wine & Web". The hashtag is #wineweb and the registration page is wineweb.eventbrite.com .
13. Links in social media bios
Usually, your Twitter, Facebook and LinkedIn bios will link to your website. But when you're promoting a big event, consider changing these links so they send visitors directly to the event page.
14. Find relevant people on Twitter
15. Tweeeeeet!
Unlike email, most tweets are missed as they flow through the social streams of your audience. So tweet early and often. Here's a list of reasons to tweet before the event. Many of these tweets can be scheduled far in advance, using tools like Coschedule and Buffer.
16. …then follow people
After these tweets, follow a few people who may be interested in your topic. When you follow someone, you might get their attention and they may notice the event. It's best to follow people when you have a compelling event promotion tweet at the top of your stream.
17. Post the event on Facebook and LinkedIn
Of course! Make sure that the image from the event page appears. Mention speakers, encouraging them to share it with their networks. Post again with videos and to remind people of registration deadlines.
18. Registration thank you page
On the thank you page after the registration process, offer to let them share the event on social media. The tweet will announce that they're going and include the hashtag and the link to the registration page. Use a Click-to-Tweet link to make this easy. You can find more thank you page examples here.
19. Registration auto-response email
20. Other auto-response emails
21. Cross the streams
If you find that you're getting traction on one social network, but not others, move the conversation around. If someone shares something on Facebook, thank them on Twitter. If someone mentions the event on Twitter, say hi to them on LinkedIn.
3 Ideas for Distributing Promotional Efforts
Event promotion is not an easy task so why not share the load? All great event marketing plans require a helping hand. Here are some ways you can distribute the promotional efforts to ensure that you are bringing in other stakeholders who can help market your event.
Team Up With Your Sponsors – Given that your sponsors most likely have resources and an audience that you won't have access to on your own, propose some joint marketing ideas. This could be your event sponsors sharing your event on social media, including it in their newsletter, or creating partnered content that promotes the event. Remember, your sponsors want you to have a successful event so don't hesitate to propose ideas that will help to get you there and drive more ROI for everyone involved.
Influencer Marketing – All industries have thought leaders who have a certain degree of influence. If you know any influencers whose audiences align with your target attendees, reach out to them to discuss possible partnership marketing opportunities. Tap into your greater network of professional contacts to see if you already know an influencer through another connection. Even easier, reach out to the speakers on your panel and make sure they're promoting the event as well. Brainstorm different ideas to make use of their influence in the industry.
Internal Team Buy-in – Remember that there are other people in your company, not part of the event marketing team, that can share some of the responsibility. Remind them that a successful event is a win for the entire company. Encourage your sales, customer success, engineering, and any other team to help with event promotion. You can gamify their efforts by creating tracked promo codes for each team and rewarding the team with the most registrations with a cash prize, team bonding activity, or another incentive. Get creative to ensure collective buy-in.
Key Takeaways: Your Event Promotion Strategy
Define your event promotion goals to build the right promotional strategy.
Align your sales and marketing teams to drive higher organizational engagement and buy-in.
Leverage your existing marketing channels for highly effective event promotions.
Repurpose content from previous events to help promote your upcoming events.
Segment your audiences to create more targeted and effective messaging.
Join the conversation on social. Use different channels and promotional strategies to drive more engagement on all your social media outlets.
Reach out to sponsors, speakers, and other teams within the company for joint promotional ideas to ensure that you are taking full advantage of their wide networks.
Use these tips and takeaways to create a promotional strategy that is right for your event. With the right resources and knowledge, event promotion becomes less of a daunting task and more of an achievable challenge.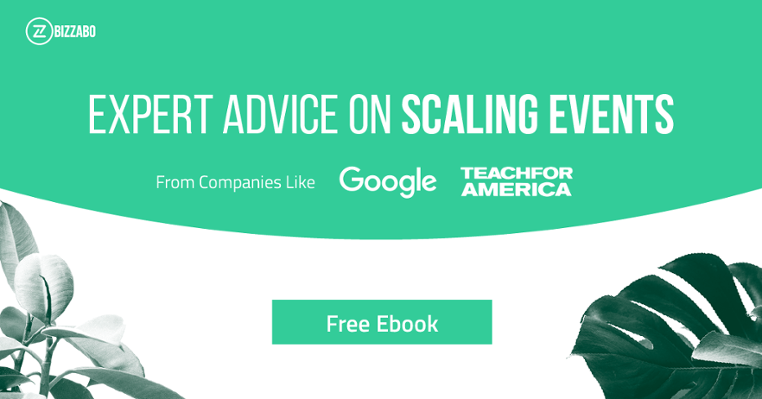 Sources:
https://www.aventri.com/strategy/event-marketing-strategy
https://www.orbitmedia.com/blog/how-to-market-an-event/
https://www.bizzabo.com/blog/event-promotion-guide/