Investors will also want to see a short section on your exit strategy. An exit strategy is your plan for eventually selling your business, either to another company or to the public in an IPO. If you have investors, they will want to know your thoughts on this. If you're running a business that you plan to maintain ownership of indefinitely, and you're not seeking angel investment or VC funding, you can skip the exit strategy section.
Step-by-Step Guide to Writing a Simple Business Plan
A business plan is the cornerstone of any successful company, regardless of size or industry. This step-by-step guide provides information on writing a business plan for organizations at any stage, complete with free templates and expert advice.
A business plan is a document that communicates a company's goals and ambitions, along with the timeline, finances, and methods needed to achieve them. Additionally, it may include a mission statement and details about the specific products or services offered.
Startups, entrepreneurs, and small businesses all create business plans to use as a guide as their new company progresses. Larger organizations may also create (and update) a business plan to keep high-level goals, financials, and timelines in check.
While you certainly need to have a formalized outline of your business's goals and finances, creating a business plan can also help you determine a company's viability, its profitability (including when it will first turn a profit), and how much money you will need from investors. In turn, a business plan has functional value as well: Not only does outlining goals help keep you accountable on a timeline, it can also attract investors in and of itself and, therefore, act as an effective strategy for growth.
Business Plan Steps
Broadly speaking, your audience includes anyone with a vested interest in your organization. They can include potential and existing investors, as well as customers, internal team members, suppliers, and vendors.
Do I Need a Simple or Detailed Plan?
Your business's stage and intended audience dictates the level of detail your plan needs. Corporations require a thorough business plan — up to 100 pages. Small businesses or startups should have a concise plan focusing on financials and strategy.
How to Choose the Right Plan for Your Business
| Function | Audience | Type of Business Plan |
| --- | --- | --- |
| Serve as a loose guide of objectives and timeline | Internal | Lean |
| Serve as a detailed, brass-tacks blueprint of business goals and timeline | Internal | Traditional |
| Serve as a strategic document with a narrative focus on organization-wide goals, priorities, and vision | Internal | Strategic |
| Earn a company loan or grant | External | Traditional (with focus on financial documents) |
| Attract investors or partners | External | Traditional/strategic (with focus on financials, as well as support departments, such as marketing, sales, product, etc.) |
| To test a business or startup idea | Internal | Lean |
Is the Order of Your Business Plan Important?
There is no set order for a business plan, with the exception of the executive summary, which should always come first. Beyond that, simply ensure that you organize the plan in a way that makes sense and flows naturally.
The Difference Between Traditional and Lean Business Plans
A traditional business plan follows the standard structure — because these plans encourage detail, they tend to require more work upfront and can run dozens of pages. A Lean business plan is less common and focuses on summarizing critical points for each section. These plans take much less work and typically run one page in length.
In general, you should use a traditional model for a legacy company, a large company, or any business that does not adhere to Lean (or another Agile method). Use Lean if you expect the company to pivot quickly or if you already employ a Lean strategy with other business operations. Additionally, a Lean business plan can suffice if the document is for internal use only. Stick to a traditional version for investors, as they may be more sensitive to sudden changes or a high degree of built-in flexibility in the plan.
How to write a business plan in 10 steps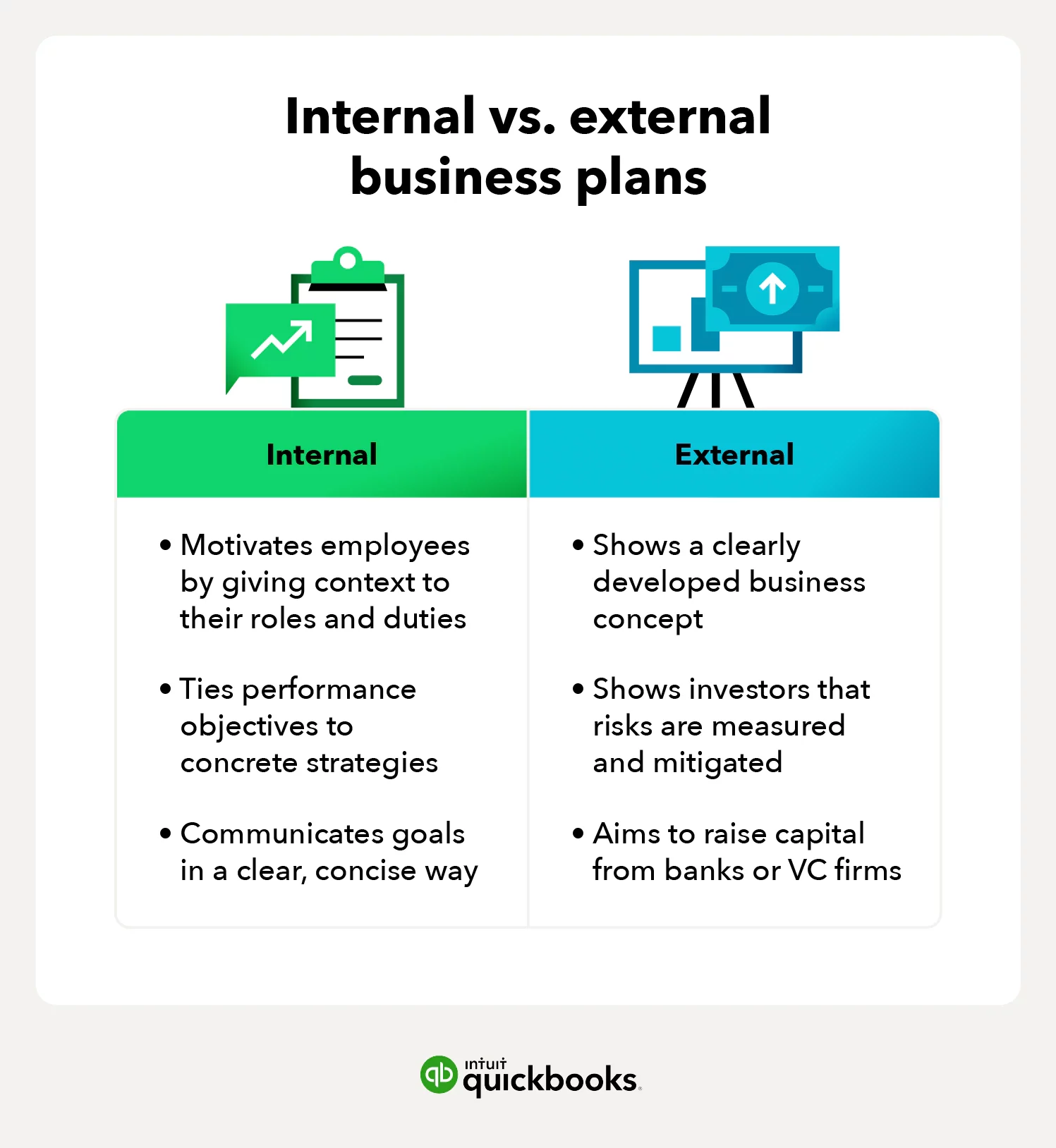 1. Create an executive summary
What is an executive summary?
The executive summary lays out all the vital information about your business within a relatively short space. An executive summary is typically one page or less. It's a high-level look at everything and summarizes the other sections of your plan. In short, it's an overview of your business.
How do I write an executive summary?
Example of an executive summary
Market research indicates that an increasing number of wealthy consumers in Richmond are interested in landscape architecture based on sustainable design. However, high-end firms in the area are scarce. Currently, only two exist—neither of which focus on eco-friendly planning nor are certified by green organizations.
2. Compose your company description
What is a mission statement?
Throughout every part of your plan, less is more. Nowhere is that truer than your mission statement. Think about what motivates you, what causes and experiences led you to start the business, the problems you solve, the wider social issues you care about, and more.
Tip: Review your mission statement often to make sure it matches your company's purpose as it evolves. A statement that doesn't fit your core values or what you actually do can undermine your marketing efforts and credibility.
How do you describe a company's history?
Why do business objectives matter?
They must also be tied to key results. When your objectives aren't clearly defined, it's hard for employees and team members to work toward a common purpose. What's worse, fuzzy goals won't inspire confidence from investors, nor will they have a profitable impact on your business.
Example of a company description
Founded in 2021 by sisters Laura and Raquel Smith, we have over 25 years of combined landscape architecture experience. Our four employees work in teams of two and have already completed 10 projects for some of Richmond's most influential business and community leaders.
3. Summarize market research and potential
The same is true with your market analysis when you estimate its size and monetary value. In addition to big numbers that encompass the total market, drill down into your business's addressable market—meaning, local numbers or numbers that apply the grand total to your specific segments. You may even map your customer's journey to get a better understanding of their wants and needs.
Example of market research and potential
Laura's Landscapers' ideal customer is a wealthy baby boomer, a member of Gen X, or a millennial between the ages of 35 and 65 with a high disposable income. He or she—though primarily, she—is a homeowner. They're a working professional or have recently retired. In love with the outdoors, they want to enjoy the beauty and serenity of nature in their own backyard, but don't have the time or skill to do it for themselves.
4. Conduct competitive analysis
Competitive research begins with identifying other companies that currently sell in the market you're looking to enter. The idea of carving out enough time to learn about every potential competitor you have may sound overwhelming, but it can be extremely useful.
Spend some time thinking about what sets you apart. If your idea is truly novel, be prepared to explain the customer pain points you see your business solving. If your business doesn't have any direct competition, research other companies that provide a similar product or service.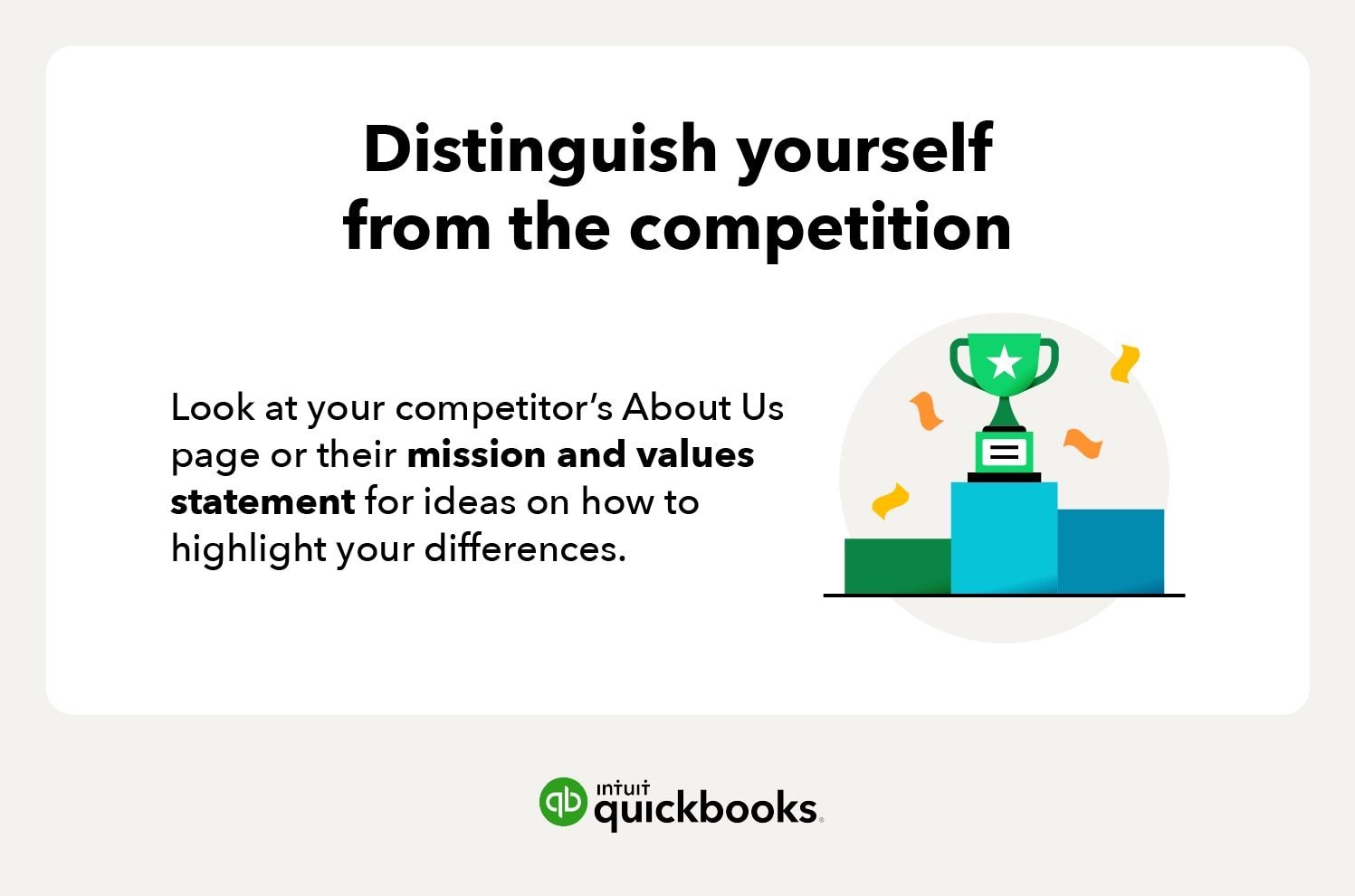 Example of competitive analysis
Within Richmond's residential landscaping market, there are only two high-end architectural competitors: (1) Yukie's Yards and (2) Dante's Landscape Design. All other businesses focus solely on either industrial projects or residential maintenance.
5. Describe your product or service
Example of product or service description
First, throughout their careers, Laura and Raquel Smith have worked at and with Richmond's three leading industrial landscaping firms. This gives us unique access to the residents who are most likely to use our service.
Business plan writing tips
Determine why you are writing a business plan
Knowing why you are writing a business plan will determine your approach to your planning project. For example, if you are writing a business plan for yourself or just for use inside your own business, you can probably skip the section about your team and organizational structure.
If you're raising money, you'll want to spend more time explaining why you're looking to raise the money you want and exactly how you're going to use those funds. So, before you start writing your plan, think about why you are writing a business plan and what you're trying to get out of the process.
Keep things concise
Have someone review your business plan
Writing a business plan in a vacuum is never a good idea. It's helpful to zoom out from time to time and make sure that your plan is logical and makes sense. You also want to make sure that it's easy to read and understand. Don't wait until your plan is "done" to get a second look, though.
Start sharing your plan early and find out from your reader what questions the plan leaves unanswered. This early review cycle will help keep you on track. If you need a more detailed review, you may want to explore hiring a professional plan writer to give it a thorough examination.
Use a free business plan template to get started
Knowing what information you need to cover in a business plan sometimes isn't quite enough. If you're struggling to get started or need additional guidance, it may be worth using a business plan template. If you're looking for a free downloadable business plan template to get you started, download the template that's been used by more than 1 million businesses.
How do I write a simple business plan?
If you're not ready to work on a detailed business plan and want to start with something shorter and simpler, we recommend starting with a simple one-page business plan. You'll be able to put together an initial plan in less than 30 minutes. For many businesses, this is a great way to get started. And, if you're not raising money from investors, this may be all the plan you need.
Next steps for writing your business plan
Whether you're writing a plan to explore a new business idea, establishing steps to start a business, looking to raise money from investors, seeking a loan, or just trying to run your business better—a solid business plan will help get you there.
Business planning is a continuous process that can help you validate your idea, set goals, manage, and successfully pitch your business. One of the most helpful things you can do to build a successful business is to jump in and start planning. If you're looking for a more comprehensive step-by-step walkthrough for writing a business plan, check out our Business Planning Guide.
If you need more than a template, we recommend exploring business planning software, such as LivePlan. It features step-by-step guidance that ensures you include only what you need in your plan and reduces the time you spend on formatting and presenting.
You'll also get help building solid financial models that you can trust, without having to worry about getting everything right in a spreadsheet. Finally, it will transform your plan into a management tool that will help you easily compare your forecasts to your actual results. This makes it easy to track your progress and make adjustments as you go.
Financial Analysis
Financial projections and estimates help entrepreneurs, lenders, and investors or lenders objectively evaluate a company's potential for success. If a business seeks outside funding, providing comprehensive financial reports and analysis is critical.
Balance Sheet: Describes the company cash position including assets, liabilities, shareholders, and earnings retained to fund future operations or to serve as funding for expansion and growth. It indicates the financial health of a business.
Income Statement: Also called a Profit and Loss statement, this report lists projected revenue and expenses. It shows whether a company will be profitable during a given time period.
Cash Flow Statement: A projection of cash receipts and expense payments. It shows how and when cash will flow through the business; without cash, payments (including salaries) cannot be made.
Operating Budget: A detailed breakdown of income and expenses; provides a guide for how the company will operate from a "dollars" point of view.
Break-Even Analysis: A projection of the revenue required to cover all fixed and variable expenses. Shows when, under specific conditions, a business can expect to become profitable.
It's easy to find examples of all of the above. Even the most basic accounting software packages include templates and samples. You can also find templates in Excel and Google Docs. (A quick search like "google docs profit and loss statement" yields plenty of examples.)
Or you can work with an accountant to create the necessary financial projections and documents. Certainly feel free to do so, but first play around with the reports yourself. While you don't need to be an accountant to run a business, you do need to understand your numbers, and the best way to understand your numbers is usually to actually work with your numbers.
But ultimately the tools you use to develop your numbers are not as important as whether those numbers are as accurate as possible–and whether those numbers help you decide whether to take the next step and put your business plan into action.
Keep in mind creating an Appendix is usually only necessary if you're seeking financing or hoping to bring in partners or investors. Initially the people reading your business plan don't wish to plow through reams and reams of charts, numbers, and backup information. If one does want to dig deeper, fine–he or she can check out the documents in the Appendix.
References:
https://www.smartsheet.com/content/write-business-plan?amp
https://quickbooks.intuit.com/r/starting-a-business/business-plan-template/
https://articles.bplans.com/how-to-write-a-business-plan/
https://www.inc.com/jeff-haden/how-to-write-perfect-business-plan-a-comprehensive-guide.html